Do you want to visit Abbottabad on vacation but don't know which place is best? No need to worry. I'll guide you completely about Abbottabad's beautiful natural places. Abbottabad is the hub for tourism. There are so many top places to visit in Abbottabad. In this informational article, you'll learn much about the Top Beautiful Natural Places in Abbottabad.
Abbottabad is a place you will never regret visiting. It has the most pleasant weather. In winter you can also enjoy snowfall. Regardless of the season, it is the most attractive and promising place to visit. It has many places for a relaxing family trip and also for thrilling friend trips.
Best places to visit in Abbottabad:
Abbottabad is enriched with natural beauty. There are numerous beautiful places in Abbottabad. Here I am sharing some beautiful Abbottabad places worth visiting.
1.     Harnoi Lake Abbottabad:
Harnoi is one of the most visited places. It is located at 15 minutes of drive from Abbottabad city. Tall mountains surround Harnoi. It is an evergreen place with tall trees. The calm and refreshing breeze soothes your soul.
As it is visited more often, there are many restaurants, food stalls, and a park for visitors.Harnoi is also the best for hiking as it has pleasant weather throughout the year.
2.      Thandiani hill station: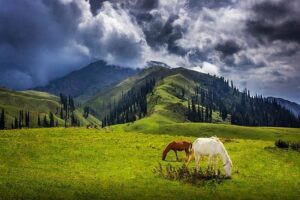 Thindiani is the place you must have heard of.Thandian is a bit cold place almost 38 kilometers away from Abbottabad. On the way, you'll encounter the most charming beauty of nature. It is one of the Best Places to Visit in Abbottabad. Trust me, this hill station is the most calming, reviving, and eye-capturing place. Let's come out of the monotonous routine life. There are many hotels and restaurants in Thandiani. You can stay there and enjoy it all around.
3.      Mushkpuri top: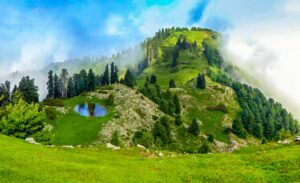 Mushkpuri is the second highest mountain in the Galyat region. The temperature at Mushkpuri is much low. In winter, it is fully covered with snow. There are two tracks for climbing, and it'll take almost 3 hours to reach the top.
Mushkpuri top is the hub of people who love climbing. If you like climbing and adventures, visit this place without a second thought.
4.      Shimla hill:
Shimla hill is only 10 kilometers away from Abbottabad city. The Shimla hill is part of the Sherwin range. Shimla means crest of turban, and it is named so because it takes the shape of a crest.
Shimla hill is so tall and beautiful. If you love adventure and exploring the beauty of nature, Shimla hill is the best place for you. Shimla hill is a good choice for hiking.
Suppose you love winter and snow; visit Shimla hill in winter. In the winter season, the hill is fully covered with snow. Also, there are many hotels near Shimla hills. You can easily stay there and enjoy yourself peacefully.
5.      Sajikot waterfall: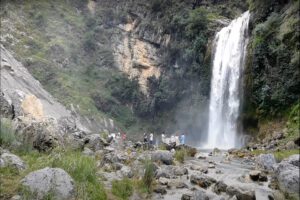 Sajikot waterfall is 47 kilometers away from Abbottabad district. This charming waterfall is one of the best beautiful natural places to visit in Abbottabad. The track of Sajikot is a bit narrow, but the destination is a gift from nature. Listening to the soothing sound of the waterfall is amusing while taking a break from the hustle and bustle of city life.
Top Beautiful natural places to visit in Abbottabad at night:
As most of the places in Abbottabad are close to hills and forests, try to avoid visiting such places at night. However, here are some best places to visit in Abbottabad at night:
Ilyasi Masjid:
The Ilyasi masjid is a historical spot near Abbottabad. This magnificent mosque is built on the top of the hill. This white masjid is a magnificent piece of art. Because of its beauty, many visitors visit the Ilyasi masjid.
Ilyasi masjid stays open for visitors 24/7. It is a safe and sound place, and you can visit it at night. You'll also enjoy different treats from small food stalls near the Ilyasi masjid.
Lady garden park:
Why not visit a park full of natural beauty? Lady garden park is a safe and calm place to visit beautiful natural places in Abbottabad. James Abbott establishes it. Most of the trees and plants in the park are imported. It is the oldest visiting place in Abbottabad.The park is the best place to visit with family. The kids love to enjoy swings, and the ladies like to inhale fresh air in the calm environment of the park. Don't forget to visit lady garden public park next time you visit Abbottabad.
It would be best if you also visited Shimla hill in the evening to enjoy the charming sunset view.
Best Beautiful Natural Places to visit in Abbottabad for couples:
If you want to enjoy the beautiful natural places in Abbottabad along with your spouse, do not worry. There is no limit to the best visiting places of Abbottabad. On the top of my recommendations are:
Shimla hills
Harnoi lake
Thandiani
Ilyasi mosque and many more.
You can also visit St. Luke church, lady garden public park, etc.
Final words:
If you want the best vacation this time, try to visit as many beautiful natural places in Abbottabad as possible. You won't regret spending money and time. Staying close to nature heals your soul; visit beautiful natural places more often. The fresh air and cool breezes are enough to soothe you.
This informative article will help you for sure.