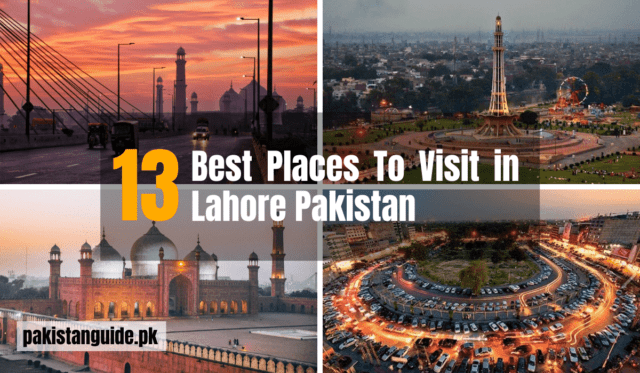 There has been a growing number of tourists flocking to different cities of Pakistan since the country opened to tourism. The best places in Pakistan are not your usual tourist destinations, so are Lahore's best places. People from all around the world come for the best places to visit in Lahore. In the heart of Pakistan lies the city of Garden, Lahore. Lahore is the capital city of Punjab province and retains historic and cultural importance. The best places to visit in Lahore play host to various cultures and religious sites. The city is full of beautiful architecture that dates back to colonial times.
If you are visiting Lahore for the first time, you will need to read this guide to prepare yourself to visit the best places in Lahore and for an adventure of a lifetime. Below you will find all the information you need on the best places to visit in Lahore, awesome things to do. Let's take you through the best Lahore has to offer.
Badshahi Mosque
Known as Badshahi Masjid, this mosque is the second most important one in Pakistan and the eighth largest mosque in the world, based on its size. Approximately 100,000 visitors can be contained in the mosque.
The Badshahi Mosque was erected in 1673 AD by Aurangzeb Alamgir, the sixth Mughal emperor. It was built using red bricks imported from Jaipur, India. Distinguished by its red structure and extraordinary architecture, it is a great tourist destination and one of the best places to visit in Lahore with family.
Shahi Qila
Undoubtedly, the place is among the best places to visit in Lahore. Lahore Fort, also known as Shahi Qila, is a Mughal-era structure near Lahore's walled city. Among its monuments are more than 20 specimens of Mughal architecture. Built by Emperor Akbar and home to many successive Mughal emperors, the fort later became the residence of Ranjit Singh, the ruler of the Sikh Empire. The fort was then occupied by both the British and the Sikhs. Despite the ravages of time on its stunning structure, the fort holds its own value against Delhi and Agra in India.
Lahore Museum
A top attraction in Lahore is the Lahore Museum, one of the best museums in Pakistan. Founded in the second half of the 1800s during British rule, the museum has around 20 galleries containing works of art, relics, sculptures, and other artifacts dating back to Gandharan times. Additionally, the museum houses one of the most diverse sets of the history of the Indian subcontinent. The museum also displays ancient manuscripts of the Quran, as well as Islamic artifacts.
Jahangir's Tomb
It took a decade for the tomb of Emperor Jahangir to be built in Shahdara Bagh during the 17th century. Shah Jahan's son is credited with designing this beautiful tomb in memory of his father, but it was actually built by Jahangir's most beloved wife, Nur Jahan, who built her own tomb within Shahdara Bagh in a similar style so that she could be buried there when the time came. This complex is made from red sandstone and decorated with elaborate white marble motifs. The place still retains great historical importance and is also the best place to visit in Lahore with family.
Wagah Border
One of the best places to visit in Lahore for free is the Wagah border, between India and Pakistan next to the Grand Trunk Road. Border ceremonies are held daily at the border, making it a very popular spot. The closing ritual, sometimes known as The Beating Retreat Ceremony, has been held since 1959. Guards from both countries come to the border, remove their respective flags, and formally close the border.
This ceremony must be seen at least once by every tourist. People from both countries show their patriotism during the closing ceremony which is a sight to see. You don't have to pay anything since it's absolutely free. The ceremony is attended by hundreds of patriotic Pakistanis every day.
Minar-e-Pakistan
The best places to visit in Lahore cannot be summed up without mentioning the historic Minar-e-Pakistan. As the memorial of the signing of the Pakistan Resolution by the All-India Muslim League on the 23rd of March 1940, Minar-e-Pakistan is of immense historical and political significance to the people of Pakistan. Located in the biggest suburban park in the country, Iqbal Park, the monument stands tall. Minar-e-Pakistan rises to a height of about 60 meters, with a base of about eight meters above the ground. The constructal work began in 1960 and was completed in 1968.
Masjid Wazir Khan
Those interested in Islamic architecture and heritage should visit Masjid Wazir Khan. Shaikh Ilm-ud-din Ansari, viceroy of Punjab, built this magnificent and majestic structure in 1634. Dr. Ansari served as the personal physician of Prince Khurram, who became the future Emperor of Mughal times. In recognition of Ansari's capabilities, the prince bestowed the title of 'Wazir Khan' on him. This mosque was built by Wazir Khan later on.
The area around the mosque includes a hammam and a commercial district as well.
Its architectural design sets it apart from other mosques. During the construction of this mosque, four minarets were built on each corner, for the first time ever in Lahore. The entire mosque was built with cut and dressed bricks, ceramic tiles, and precious stones. It is interesting to note that the mosque's ground floor has 22 shops. The shops provide a commercial hub where a vast amount of tourists come to shop.
Masjid Wazir Khan is an important place to visit for anyone interested in learning more about Lahore's Islamic heritage.
SHALIMAR GARDENS
Shalimar Gardens is one of the best places to visit in Lahore with family. Shalimar Gardens were constructed around 1641 by Emperor Shah Jahan over an area of 80 acres and are considered a UNESCO World Heritage Site. A true reflection of Mughal architecture, the gardens are comprised of ponds, waterfalls, as well as three distinct terraces are known as 'Farah Baksh' (meaning Bestower of Pleasure), 'Faiz Baksh' (meaning Bestower of Goodness), and 'Hayat Baksh' (meaning Bestower of Life). The gardens are an ideal destination for a weekend getaway with your family or for planning a picnic.
Amazing things to do in the City of Lahore
The variety of activities one can undertake on a trip to Lahore on a day is incredible. We've put together this list of the Best Places to visit in Lahore.
Take A Look At Sheesh Mahal's Designed Work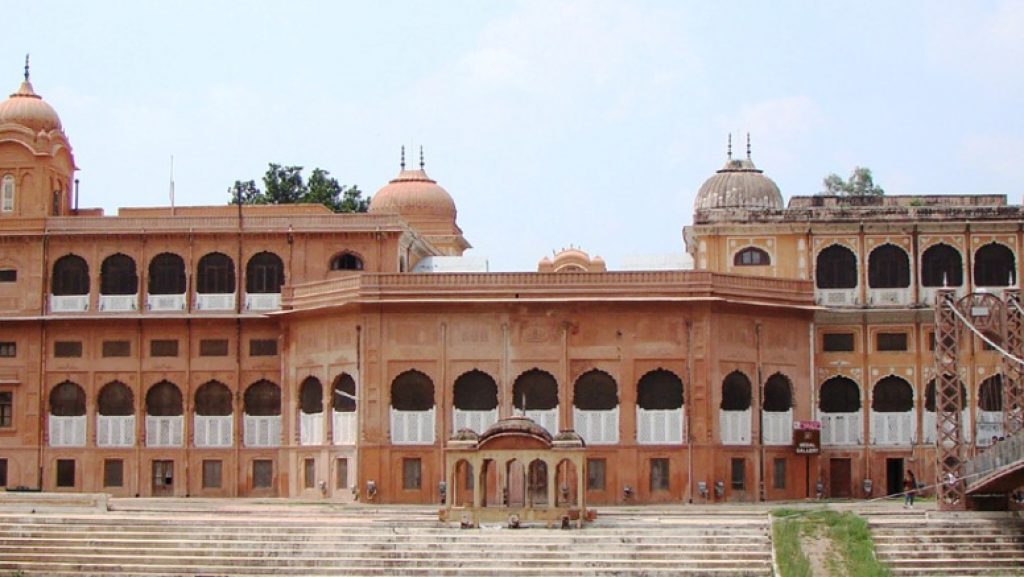 You will find a beautiful structure called the Sheesh Mahal, or Palace of Mirrors, in the northwest corner of the Lahore Fort. Originally constructed during the reign of Mughal Emperor Shah Jahan in the 16th century, this palace has been maintained quite well until today. The distinguishing feature of this place is the opulent white marble dome's walls, which are decorated with intricate mirror work not found anywhere else in the fort. The fort's largest and most important structure can easily be missed if you're unfamiliar with its location.
Take a stroll around Delhi Gate's market
There are only six gates around Lahore's walled city, and the Delhi Gate is one of six that remain. The Delhi Gate is only a few steps east of the Wazir Khan mosque, a famous historical attraction in Lahore. As you walk through the gate, you will meet a lot of friendly locals who will welcome you into their shops, a great way to experience Pakistani hospitality.
When you walk around the market, do not be afraid to accept a stranger's greeting if they come up to you as locals are extremely friendly and offer their best services to tourists. Pakistan hasn't been inundated with tourist traffic yet, and people are genuinely nice and warm-hearted.
Visit Lahore Food Street
The Fort Road can be reached in fewer than 5 minutes from Badshahi Mosque – a popular food street in Lahore with a wide variety of buildings adorned with colorful and vibrant decorations. The detail on some buildings here is so impressive that you will notice something new whenever you gaze upon it. Lahore street food is unquestionably the best place to visit in Lahore at night.
Additionally, there are many restaurants here that provide a breathtaking view of Badshahi Mosque, such as Haveli Restaurant, Andaaz Restaurant, and Cooco's Den. All of these restaurants are the best places to visit in Lahore for couples.
Anarkali Bazaar
Anarkali Bazaar is the best place to visit in Lahore. In this market, you get to see more of Lahore's local life. Anarkali Bazaar is divided into two sections: the Old Anarkali Bazaar and the New Anarkali Bazaar.
Traditional foods can be found in the Old section, but you can also find tons of clothing, jewelry, embroidery, and handicrafts in the new section of the bazaar. It is an interesting experience to watch the bustling activity of the markets even if you don't intend to buy anything. Nevertheless, it's always best to support local businesses.
I hope this guide will help you plan your trip to Lahore. Now that we have all the information we need, it's time to plan your trip to Lahore, Pakistan!
For more information about exotic food in Lahore read the best restaurants in Lahore.
Read more: