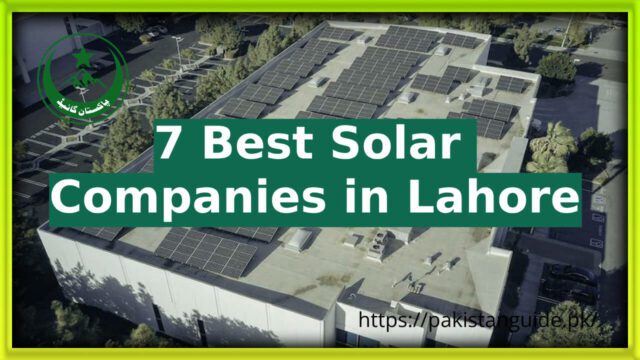 The popularity of installing a solar system in Pakistan is growing fast as many houses and business owners are switching to solar panel system. Since Pakistan has had a long-running electrical crisis, switching to solar power is the best solution. Solar not only save you money on your monthly electric bills but solar system also increases the value of your home in Pakistan. Solar energy providers enable people, organizations, and communities to produce their own electricity through sun. Consumers can lessen their reliance on conventional energy sources and utility providers by using solar farms or installing solar panels on their homes. Here is the list of best solar system companies in Lahore.
1 – Sympl Energy
Sympl Energy is one of best solar system company in Lahore with the quickest growth rate. They have smooth solar installation process and their solar engineers have about 10 years of solar systems installation experience. Sympl Energy has a very well furnished office in DHA Lahore. They install solar panel systems in residential, business, and agricultural locations. They are renowned for offering top-notch services along with well-established net-metering system, and consultation on solar installation.

2. Premier Energy
Premier Energy is a well-known solar system provider that is offering solar solutions in Pakistan. The solar installation team of highly qualified specialists and engineers is the core strengths of this company. They have a very good online presence in Pakistan marketer. They closely work with clients to determine their individual energy needs and offer a tailored solar power solution based on site analysis. They have a many clients in the commercial, residential, and agricultural sectors. This solar company has strong roots in all major cities of Pakistan.
3. Sky Electric
Sky Electric is a leader in the field of intelligent solar energy solutions in Pakistan. Sky Electric provides cutting-edge energy management systems that make use of machine learning and artificial intelligence. These systems keep an eye on and manage energy use, ensuring effective solar power use and lowering reliance on the grid. To maximize the advantages of solar energy, the algorithms adjust to user behavior, weather patterns, and energy patterns. This company has more than 400 employees and consider as one of the largest solar system company in Pakistan.
4. Pantera Energy
Pantera Energy asserts to offer the most reliable solar installation service in Lahore. It is a local solar system company with over 15 years of experience. They have erected solar systems on many residential and commercial sites in Pakistan. Pantera Energy has received prestigious nation award for its contributions to Pakistan's solar industry. They have an office in DHA Lahore and it's a well-recognized solar company on national level.
5. Alpha Solar
Alpha is one of the top suppliers of solar energy systems is Lahore. This solar company was founded in 2012. Their hybrid solar system solution is a good demand. Many of their clients have praised their lithium ion hybrid solar system. They are recognized from Pakistan Solar Association. They have achieved success in Pakistan as evidenced by the fact that they are a PEC, AEDB category C-1, and ISO-certified solar company in Pakistan. Their office is based in Johar Town Lahore.
6. Zero Carbon
Zero Carbon is another fast growing solar system company in Pakistan. This solar energy company provides comprehensive solar installation services in Lahore. They offer on-grid, off-grid and hybrid solar systems. Zero Carbon has solid local market reputation and has many industrial and commercial clients. They want to hasten the country's transformation into a low-carbon, energy-independent country with their contribution in solar industry.
7 – Reon Energy
You cannot miss the Reon Energy in the list of top solar companies in Pakistan. It is a national level solar system company. Reon Energy is well-represented in the market for large-scale solar energy solutions; they have successfully completed a large number of well-known solar projects, including solar parks, commercial installations, and industrial facilities. Reon Energy has gained respect and confidence in the market. They have clients as big as Unilever, Bestway cements, and Amreli steels.
In conclusion, the solar companies in Lahore mentioned in this PakistanGuide have demonstrated exceptional leadership and expertise in the renewable energy sector. Their commitment to providing efficient and environmentally friendly solutions has transformed the energy landscape of Lahore. As we move forward, it is imperative that we continue to support and encourage the growth of these companies, as they represent the future of sustainable energy in our city.
Let us unite in our efforts to embrace solar power and work hand in hand with these exceptional companies to create a greener and more prosperous Lahore for generations to come.